twissis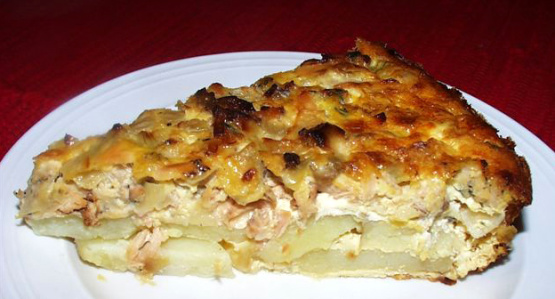 Another good recipe from "Sundays at Moosewood." Creamy and salty and delicious.

This is an excellent dish, so easy to fix & we did not find it salty at all. I made a full recipe as written except that my salmon was grilled the nite b4, so I skipped prep step 3. What did surprise us was the lox flavor seemed missing, perhaps masked by being sauteed w/the onion. We loved it & it will be repeated without the mixed lox & onion saute to see if that allows the lox flavor to be more pronounced. Even if not, it would be terrific w/fresh salmon alone. Every scrap of this was gone in less than 24 hrs & DH even ate it for breakfast! Thx for sharing this keeper w/us.
Boil the potato slices for 5 minutes (they will not be fully cooked). Drain and set aside.
Saute the onions in the butter until translucent. Add the lox and dill, sauteing for a few more minutes. Salt and pepper to taste.
Sprinkle the salmon steak with lemon juice and steam it for 5-8 minutes. It should flake easily.
Preheat the oven to 375°F.
Skin and bone the salmon and break into chunks. Stir fresh salmon and lox mixture in a large bowl.
Grease a 9 x 9 inch baking dish, and cover the bottom of the pan with the potatoes.
Layer the cream cheese cubes on top of the potatoes, then layer on the salmon mixture.
Mix together the eggs and milk with salt and pepper and pour it on top of the other ingredients.
Dust the top with paprika.
Bake until firm and golden, about 40 minutes. Cut in squares and serve.