Sunday Dinner Veggies on a Baking Stone
Bergy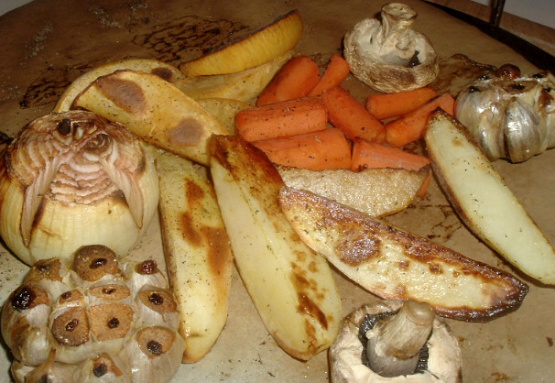 I find that doing your veggies on a baking stone gives then a rich mellow flavor. The number of veggies you do, of course, depends on how many servings you need. I manage to fit all these veggies on a 15" stone to do two servings. Sweet potato wedges are wonderful but only need about 20 minutes. The mushrooms are heavenly and are done when they start to sweat. I would not recommend doing broccoli, cauliflower or marinated veggies on the stone, however you can add a sprinkle of something or dry spice combos. It is great preparing your veggies in advance and just have your final cooking step left to do and all on one stone.

a great way to prepare baked veggies!! these were sooo delicious, just did potatoes cut in half, carrots, red onions, garlic and mushrooms whole. Used a tiny bit of oil and some balsamic vinegar over the garlic, onions and mushrooms, yum yum!! We will be making these often. — Nov 8, 2004, UPDATE: Did these again for sunday dinner to go with pot roast, oh boy were they good, did parsnips, carrots, rutabega and potatoes this time, it sure brings out the sweetness in the veggies; love'em!! thanks again Bergy, am sooo happy I bought the stone!!
2

medium potatoes, peeled & cut in half

4

medium carrots, peeled and half cooked

2

parsnips, peeled, half cooked, cut in half

2

medium onions, peeled, cross cut on top, sprinkled with a bit of balsamic vinegar

1

head garlic, outer skin removed, sprinkled with olive oil on top

6

large mushrooms, cleaned (or any combination of veggies that you want, however root veggies are best, broccoli etc. do not len)
salt & pepper
If you are using a veggie that will discolor (potatoes) put them in a bowl and cover with water.
Heat oven to 375 and allow approx 45- 50 minutes for the veggies to cook.
Put a piece of bakers paper on your room temperature baking stone (set in it's rack).
Place potatoes on the stone and put in the oven.
Next after about 15 minutes put the onions, carrots& parsnips in the oven.
Also put in your garlic (cover the garlic with a clay garlic cooker lid if you have one, if not leave it open).
When you feel they are half done turn the veggies.
Finally 10 minutes before serving put in the mushrooms.
Depending on the size of the veggies and how crisp you like them will determine your exact timing.