Laudee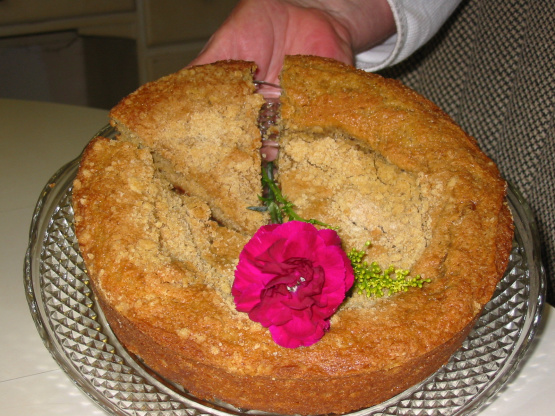 A Sunday morning treat from the pages of my Fannie Farmer cookbook...It's called, "Sunday Coffee Cake," but you could have it any day of the week! Makes 2 8-inch round pans or 1 13x9" pan of coffee cake

Not as sweet as I expected.
Grease/flour two 8-inch round pans or one 13x9 pan.
(I use the 13x9 pan).
In mixing bowl, combine the flour, sugar, and salt.
Toss together.
Then add the shortening.
Using a fork or pastry blender, work shortening into the dry ingredients until the mixture is in fine crumbs.
Scoop out 1/2 cup of the crumbs and set aside.
This will be used as topping later.
To the rest of the crumbs, add the baking powder, baking soda, cinnamon, and nutmeg.
Mix well.
Add the buttermilk and eggs.
Stir until blended.
The batter should not be smooth.
Spread the batter in prepared pan (s).
Sprinkle batter with reserved crumbs.
Bake at 375 for 25-30 minutes, or until toothpick inserted in center of cake comes out clean.
Serve warm from the pan.
**Forthe buttermilk, I often use what milk I have on hand, with 1 TBSP vinegar added per cup of milk.