Sunday Best Roasted Chicken
Feej3940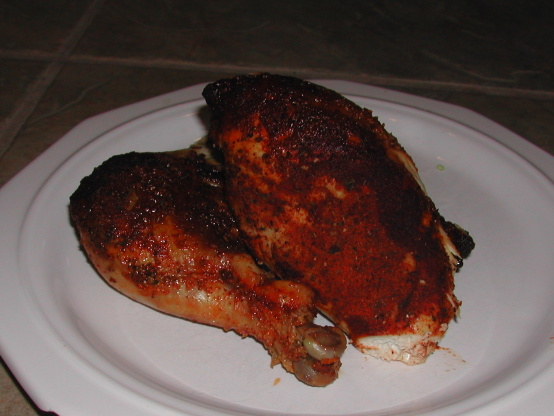 A Caribbean-themed roasted chicken from The Caribbean, Central American, South American cookbook.

At the local oriental market, I stumbled upon some annatto seeds. As I had never seen them before, I just HAD to buy them & see what they were all about. Found a handful of recipes on Zaar that I am dying to try. This was my first one. My only change was not to roast in the oven, but to use my crockpot. Both dh & I enjoyed this. He said I could make it again. I could detect a hint of that unique spice. (It helps that earlier in the day I ate one whole - just so I could be familiar with it!) Thank you very much for the recipe. I LOVE discovering something new.
ROASTED CHICKEN: Place the chicken in a roasting pan. Combine the paprika, thyme, parsley, achiote, tarragon, garlic, salt and pepper in a small bowl.
Rub the mixture all over the chicken, including underneath the skin. Cover with plastic wrap and let marinate for at least 2 hours or overnight.
Preheat oven to 350 degrees.
In a small bowl, mix the lemon juice, honey and rum. Stir well and pour over the chicken and under the skin, rubbing the mixture in well to absorb.
Lastly, spoon the melted butter all over the chicken. Cover chicken with aluminum foil and place in oven; roast for 1 1/2 to 2 hours until fully cooked. Remove foil last 30 minutes of roasting.
OPTIONAL PAN GRAVY: A pan gravy can be made with the drippings by transferring the drippings from the roasting pan to a small pan. Add the chicken stock, rum and herbs. Simmer the liquid for 10 minutes or until the gravy has reduced and thickened slightly.
Adjust seasoning with salt and pepper and pour into a gravy boat.
Serve on the side with lime wedges.