Its exotic scent and mellow buttercup hue alone make this smoothie worthwhile.
1⁄2 cup frozen mango chunks (a little generous)
1 medium banana, frozen
3 -4 tablespoons plain yogurt or 3 -4 tablespoons preferably soy yogurt
3 -4 tablespoons orange juice
1 drop vanilla (optional)
1 drop almond extract (optional)
Directions
Combine all ingredients in food processor, and blend for about 2 minutes- the long blending will make it so luxuriously creamy. You can add more juice if you want but with less, it's almost like mango cream :-).
If you decide to use the extracts (really yummy), take note: I MEAN just a drop of each!
Eat immediately or put in the freezer for up to 1/2 hour to get extra freezy.
Reviews
Most Helpful
Very good combination :) Made for Bevy Tag, 8/09

Wonderful flavors and so easy to make this healthy on-the-go breakfast or snack. This recipe will be repeated in our house! My mangoes were not frozen but the bananas were and it's great!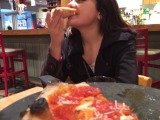 Super easy to make and wonderful for a quick breakfast. Will definately make this again. I used fresh orange juice and left out the extracts. The flavor was great.