Ms B.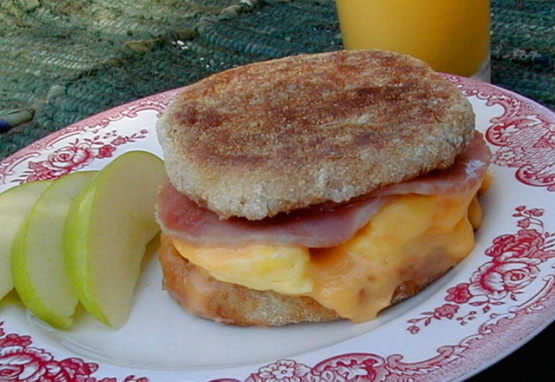 Hit your morning stride straight up with an on-the-go breakfast that's got a sun-colored secret.

This was an extremely quick and fun way to cook a scrambled egg. I had to microwave the egg longer to get the desired consistency. Next time, I will toast the muffin and assemble everything separately - as the finished sandwich was slightly too soggy out of the microwave.
Put butter in a glass measuring cup. Microwave on 100% power (high) for 20 to 25 seconds or until butter is melted. Use hot pads to remove measuring cup from microwave.
Crack egg into the the measuring cup. Add milk. Beat egg and milk with a fork until mixture is pale yellow and the yolk is completely broken. Microwave on high for 25 seconds. Remove from microwave using hot pads. Stir with fork. Microwave on high for 20 seconds more. Egg should be lightly firm but not runny. Remove from microwave using hot pads.
Use knife to carefully separate English muffin into two halves. Spread English muffin with preserves. Top one of the English muffin halves with cooked egg, cheese, and Canadian bacon or ham. Top with other half of English muffin. Place sandwich on microwave-safe plate. Microwave on high for 30 seconds or until cheese melts. Use hot pads to remove from microwave.
Serve with sliced strawberries and a glass of milk.