Mitakola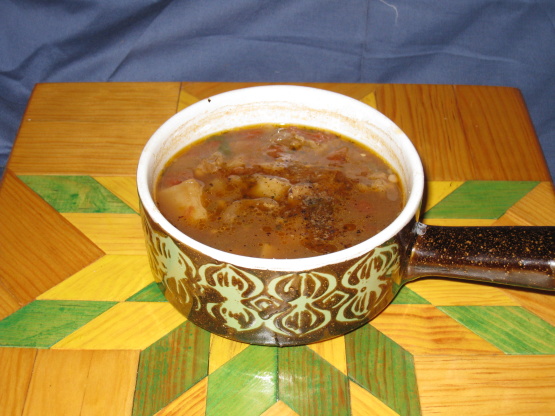 This stew was a mainstay for many chuck wagon cooks of the early cattle drives. It was often used at social gatherings when visitors would bring a variety of ingredients. This recipe has been modernized for convenience but should be cooked in a well-seasoned cast iron kettle. It can be cooked over an open campfire, charcoal, or on a modern stove. The recipe comes to us from Scottsdale, Arizona's Festival of the West.

Boyfriend loved it. I like it a lot. We made it pretty faithful to the recipe. We did use two turnips (they were in danger of going bad). <br/><br/>I see this as a good jumping point for modifications, later. Next time, I'll cook the beef in red wine and add a few dollops of tomato paste. I want this soup to be more tomatoey.<br/><br/>Also looks like a good receptable for root vegetables needing to be used. Parsnips, beets, whatever. I will also up the barley next time.
2

lbs london broil beef, chopped into small squares

6

potatoes, peeled and chopped into small squares

1

(10 3/4 ounce) can stewed tomatoes

1

large onion, chopped

1

clove garlic, minced or pressed

2

cups carrots, peeled, chopped

1

cup celery, chopped

1

cup whole kernel corn

1

cup peas (fresh, frozen or canned)
1⁄4 cup broccoli, chopped (optional)
1⁄4 cup turnip, chopped (optional)

3

quarts water
1⁄2 cup pearl barley (found in the dried bean section of the grocery store)

3

teaspoons salt

2

teaspoons black pepper

3

whole bay leaves

4

teaspoons parsley, chopped
1⁄4 teaspoon basil
1⁄4 teaspoon oregano
to taste cornstarch
to taste cooking oil (as necessary)
Heat oil in Dutch oven or large skillet. Add garlic and chopped beef.
Brown beef on all sides.
Add onion, stewed tomatoes, and 3 quarts of water.
Add seasoning, tomatoes, potatoes, and onion and simmer for 2 hours watching carefully to be sure the pot doesn't go dry.
Add vegetables and pearl barley and simmer covered for 1 hour.
Add water as needed.
Thicken stew with cornstarch.