Sun-Dried Tomato Spiced Shrimp
teresas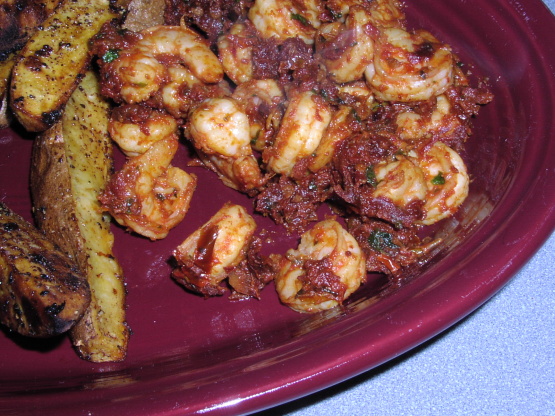 To get the most flavor from the marinade, press the sides of the bag when you turn it during the marinating process. Marinade for 2 hours.

I thought this had a nice tangy flavor with the lemon/cilantro in it. I did think the sun-dried tomato were a little over powering for the dish. I did use a "red" curry paste (that's what I had on hand). Over all this is a dish I would make again using a little less sun-dried tomatoes. Opps!! I just noticed I was suppose to discard the marinade. No wonder I thought there was too much tomato mixture in the recipe. I just changed from a 4 star to a 5 star. My error. Can't wait to make this agian.
Drain sun-dried tomatoes in a sieve over a bowl, reserving oil. Place 1 tablespoon reserved oil in a food processor. Coarsely chop 1 cup tomatoes; add to food processor. Place remaining oil and sun-dried tomatoes in sun-dried tomato jar; reserve for another use. Add cilantro, rind, juice, and curry to food processor; process until smooth. Combine tomato mixture and shrimp in a large zip-top plastic bag. Seal and marinate in refrigerator 2 hours, turning bag occasionally. Remove shrimp from bag; discard marinade.
Prepare grill to medium-high heat.
Place shrimp on grill rack coated with cooking spray; grill 3 minutes on each side or until done.