Sun-Dried Tomato Risotto With Mozzarella
Jubes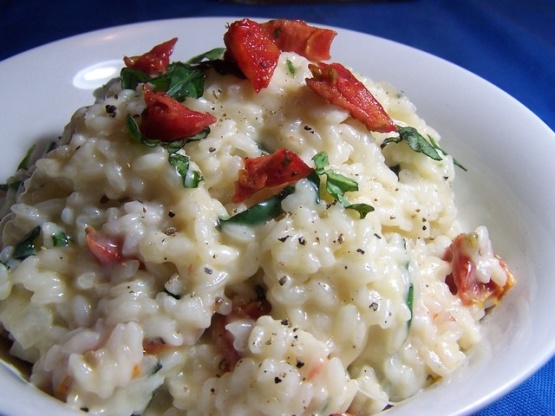 A scrumptious risotto recipe I can't get enough of!
In a large saucepan, bring stock to a simmer. While the stock is heating up, drain sun-dried tomatoes, reserving the oil. Coarsely chop tomatoes and set aside.
In a large skillet, warm 2 tablespoons tomato oil, add onion and saute until translucent, about 6 minutes.
Add rice to the pan and stir until white spots begin to appear in the center of the grains, about 1 minute. Spoon a ladle full of the vegetable stock into the pan and cook on low until all of the stock is absorbed, about 2 minutes. Continue adding stock one ladle full at a time until the rice is tender and the mixture is creamy, approximately 20-25 minutes.
Add cheeses, sun-dried tomatoes, 2 tablespoons of remaining tomato oil, basil, salt, and pepper. Mix well and serve.