jenne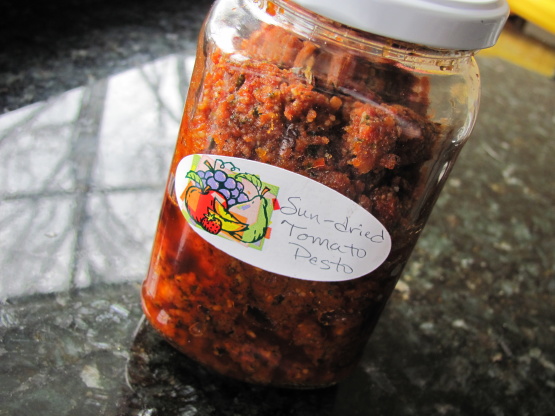 Great recipe! This was a nice twist on the traditional pesto and so easy/economical to make since it doesn't use fresh herbs (and I used canned parmesan). I stirred it into 16 oz of cooked angel-hair pasta and spread it on some broiled turkey cutlets. I happened to have pine nuts rather than almonds (usually it's the other way around), and my stepson who had never had pine nuts before, turned out to be allergic to them and had to be rushed to the ER! Thank the Lord he's fine now but I'm using almonds next time...
Everything goes into the food processor.
Whirl till you have a thick, grainy sauce.
Store in the refrigerater covered, or serve immediately: 1/4 cup for each serving.
Pass some additional Parmesan for individual taste.