Florie7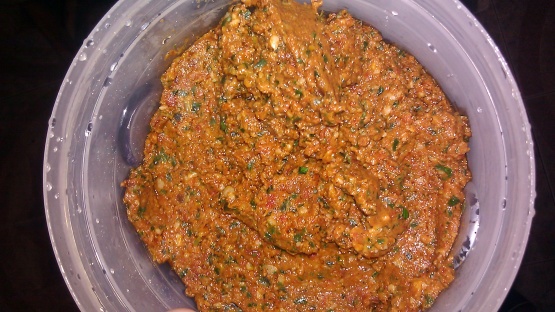 I saw this recipe on the Oprah Winfrey Show, and it's really good!

Top Review by Bergy
Great recipe for the tomatoe/pestosauce. I marinated a veal chop with about a teaspoon and a half on each side of the chop, placed it on tinfoil in a pyrex dish. closed the tinfoil - 350F oven for 20 minutes, opened the foil, added additional parmesan and continued to cook it. Broil the last few minutes if necessary to brown the cheese. I served this with buttered linguine and added 2 tbsp of crumbled blue cheese MMMmmmm I also did Brussels sprouts in garlic butter by TraceyK. A very enjoyable dinner Thank-you Mirjam & TraceyK. UPDATE: Last week I used this sauce on a veal chop and Sat night I made a thin crust pizza, mixed this sauce half & half with pizza sauce then added pepporoni, mushrooms, mozzarella, chopped fresh tomatoes, olives and anchovies - A pizza to die for. Mirjam this sauce has so many uses I thinks a jar will be in my fridge all the time Thanks
Process all the ingredients in a food processor fitted with the metal blade until the mixture forms a coarse paste.
(The pesto can be stored in an airtight container and refrigerated for up to 1 month).