Sun-Dried Tomato Lamb Shanks
ImPat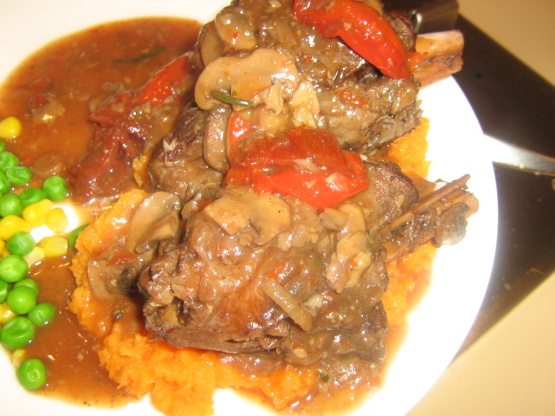 I came up with this one the other night just experimenting with ingredients and both my hubby and I really enjoyed it. It is easy to throw together and then you just leave it to cook on the stove. I served ours of mashed potato but you can serve it with whatever you like.

Top Review by ImPat
Fall of the bone and full of flavour, the only thing different I did was to use fresh rosemary and lemon thyme (tied in a bundle) and had to use jarred mince cloves. 3 1/2 hours later our 3 lamb shanks about 400/450grams each were fall apart beautiful. I added 3 tablespoons of cornflour and gave it a quick blitz with the stick blender but oh boy there is a heap of sauce. I served it over mashed sweet potato and some peas and corn, a delicious meal but next time I will allow for some crusty bread to sop up that wonderful gravy/sauce. Thank you The Flying Chef, made for Edition * - Make My Recipe.
Heat a little olive oil in a large fry pan, add shanks and brown all over. Remove shanks and wipe pan clean.
Heat a little more oil in pan add onion, mushrooms and garlic, cook stirring until onion softens and mushrooms brown slightly.
In a large saucepan add onion mix and all the other ingredients, except cornflour and parsley, return shanks to pan.
Bring to the boil, then reduce heat to low and cook covered about 4 hours or until lamb is falling off the bone. My shanks were quite meaty so time will vary depending on sizes of shanks.
Remove shanks and cover with foil to keep warm.
Mix a little water with the cornflour and add to liquid, bring to the boil and stir until mixture thickens. (It will not be super thick just a nice gravy consistency.).
To Serve: Place a mound of mash on a plate, top with a shanks and pour sauce all over, garnish with parsley if desired.