Sun-Dried Tomato Chicken Pesto Couscous Salad
PaulaG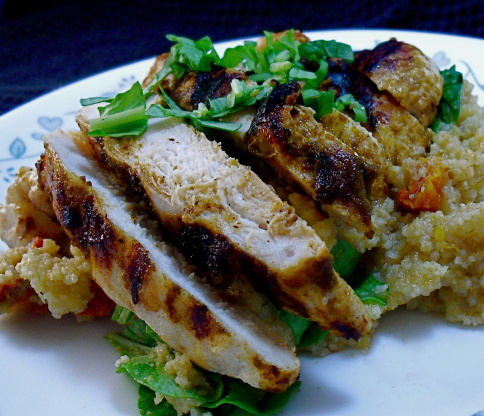 This is such a quick recipe to make and has a wonderful flavour, it is the perfect after work meal as you can have it on the table in about 25-30 Min's. I love couscous and this is another way of preparing it with the sun-dried tomato pesto along with the chopped sun-dried tomatoes, adding such wonderful tastes. I top it with chicken which I also rub with sun-dried tomato pesto and I think it is a wonderful combination.

Top Review by noway
This was great! I loved the lemony twist added to the pesto. I used spinach instead of arugula because the store didn't have any, but will definitely make again with the arugula. I used only 1 cup water with 1 cup couscous since I don't know what a sachet is. Thanks for posting!
Bring the water and stock to the boil, add sachets cook according to packet instructions. (Mine is 2 minutes) Cut sachets open and pour couscous into a large bowl, fluff with fork.
Add juice, rind, pesto and chopped sun-dried tomatoes, stir gently to combine.
Add a little oil to a fry pan, rub 1 tablespoon of pesto over each breast, cook chicken on both sides until browned and cooked through.
Toss rocket gently into couscous.
To Serve: place couscous on a plate top with sliced pesto chicken.