Sun-Dried Tomato Burgers (Light)
PaulaG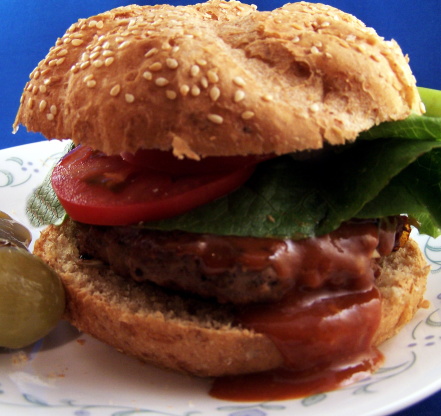 From R. Reisman. I used sun-dried tomatoes in oil and added a bit more breadcrumbs. This burger is soooo good!! :) I love the little sauce that goes with it too!!

I made the burgers without any BBQ sauce or Ketchup because I don't use either. Even so I was surprised at how moist the extra lean meat was. On a whole wheat bun with fresh spinach leaves, onion and a thick tomato slice it was very enjoyable even with no sauce. Excellent use of ground beef, it has character and plenty of flavor.
To make burgers: In a large bowl, combine all burger ingredients. Form into 4 patties.
On a grill sprayed with cooking spray, cook patties on one side over medium heat for 7 minutes. Turn and cook 3 to 8 minutes longer or until cooked through. (Alternatively, bake in preheated 450°F oven for 10 to 15 minutes or until cooked through, turning once.).
To make sauce: In a small bowl, mix sauce ingredients. Serve over top of burgers with garnishes (GARNISH: Sliced onions, pickles, tomatoes, and lettuce).