Sun-Dried Tomato & Bean Salad
Bev I Am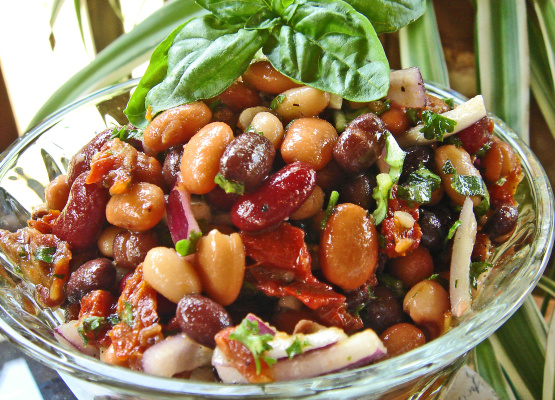 From Cooking Light Magazine. A different twist on 3-bean salad, this makes enough for a crowd, and is great for potlucks. I never have leftovers! Don't be intimidated by the long list of ingredients- they come together quickly. Let this chill overnight for best flavor.

This was pretty good, especially after marinating over 2 nights. At first, I didn't add onions. However, it needed that bite from onions. I added them and it was much better. I recommend eating this with a spoon; the beans fall right off a fork.
Rinse and drain all beans & peas.
Drain tomatoes and reserve oil.
Place 1/4 cup of the reserved oil into a medium bowl. Add vinegar, sugar, salt, dry mustard, and pepper. Whisk well, set aside.
In large serving bowl, combine chopped tomatoes, parsley, basil, all beans, peas, and onion. Mix gently.
Pour vinegar mixture over beans, and toss to coat.
Cover and chill overnight.