Sun-Dried Tomato and Garlic Bread (ABM)
R.Lynn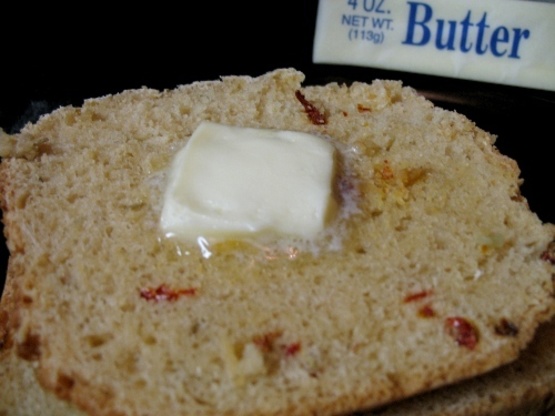 Savory and bursting with flavor! This is quite similar to a previously posted recipe by another chef, but am offering this one as it is sized for a smaller (minimum 1 1/2 lb-10 cup capacity) machine). It bakes up perfectly for us! Cooking time will depend upon your machine.

Perhaps it's because I didn't have enough garlic on hand (only 1 large clove), but this turned out all wrong for me. It was too bland (desperately needed at least 1 and 1/2 tsp. salt), too oniony (I won't use the onion again at all), and I couldn't taste the rosemary (perhaps due to the oniony flavor). I minced the onion quite fine, but it still had a bit too much texture in it after the bread was cooked. Eeek! I'll try it again soon with a few modifications and note changes.
Add all the ingredients EXCEPT the tomatoes, onion and garlic to the machine in the order recommended by the manufacturer.
Select the basic white bread cycle, and start machine.
When the"additions" beeper sounds, add the remaining three ingredients.