Sun-Dried Tomato and Apricot Chicken
JustJanS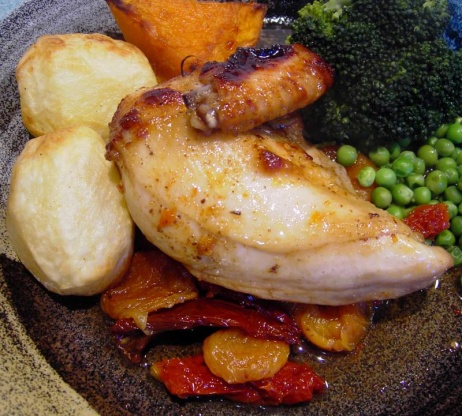 Chicken baked with sun-dried tomatoes and apricots flavored with orange juice and balsamic vinegar. Recipe from Betty Crocker.

This was quick to make, the sauce tasted good, but somehow the chicken, although it was tender, never quite took up the flavour of the sauce. I'm going to make this again soon, as I have all the leftover ingredients. Next time, I'm going to try adding a little garlic, chilli, and I'm going to reduce the sauce to more of a glaze before I serve it.
Preheat oven to 375°F.
Combine orange juice and vinegar in a 9x13 inch baking dish, add chicken, spoon orange juice over pieces and season with salt and pepper.
Spread marmalade on top and bake 30 minutes.
Baste chicken with pan liquid.
Place tomatoes and apricots around chicken, mix with pan juces and sprinkle with brown sugar.
Bake 35-40 minutes basting with pan juices, cover with loosely with foil when chicken begins to brown.