Cuistot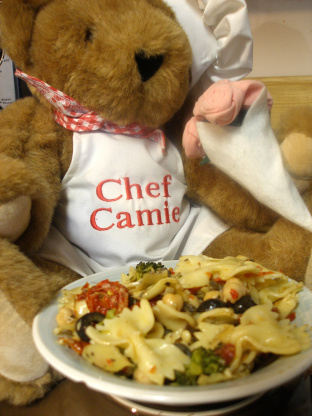 This wonderful pasta salad was created to remind me of a sunny day on the Mediterranean, loaded with fresh vegetables, olives, sundried tomatoes, Parmesan and fresh basil. I have also added grilled chicken to this dish, which makes it even better. For vegetarian omit the shrimp and chicken.

This was such an easy and delicious salad. My church does a potluck service every week and I took this dish this time and everyone enjoyed it! My children weren't to fond of it lol, but the adults all raved! This will definitely be in my regular potluck rotation! Thanks!
Cook bow-tie pasta according to package direction in a large pot of boiling, salted water.
Add the brocolli to the pot for the final two minutes of cooking.
Drain well.
In a very large bowl, combine all the other ingredients, gently combining to thoroughly coat salad with the dressing and seasonings.
Taste and adjust salt, pepper, Parmesan, red pepper flakes, or additional oil and vinegar.
Refrigerate for a few hours before serving.