PaulaG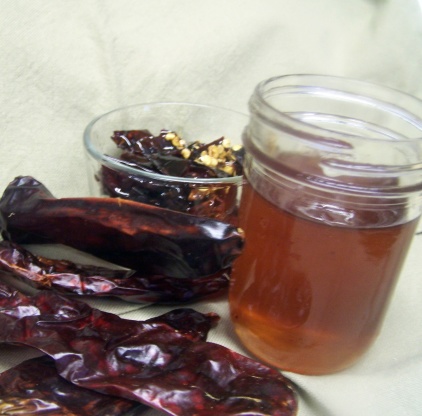 This honey is infused with red chile. The red chile gives it a distinctive flavor and lovely red hue. It will keep indefinitely in a tightly sealed glass jar. This is a great addition to fresh baked bread, sopaipillas or corn bread. The recipe comes from Real New Mexico Chile cookbook. Please note: If the honey is super thick, warm it slightly before straining.

This recipe just caught my eye...ever since I had my son, I crave spicy foods and sweet and hot is especially good! I found those tiny dried peppers(in the Mexican section) and used those with a little powdered chipotle...Talk about wonderful. This winter was a little low on the sunshine (Oregon) so I just warmed in the microwave once a day or every other. It is still sitting in my window box -it is lovely and tastes like heaven... thank you so much for posting!
Remove the stems from the chilies and lightly crumble both the peppers and seeds.
Place in a clean glass jar, add the honey.
Place the jar in a sunny window for a week.
Taste and if more heat is desired, add cayenne to taste.
Strain the honey through a fine mesh strainer and return to the jar.