Zurie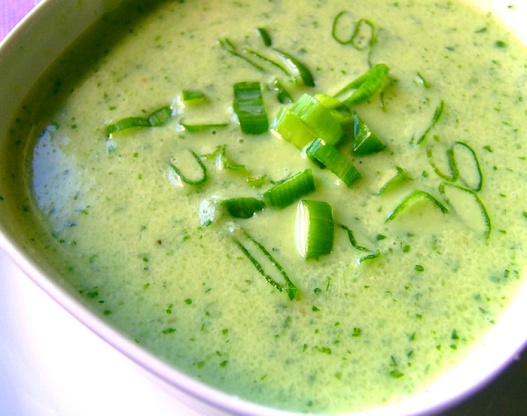 Light, chilled, healthy green refreshment for a hot summer's day ... As your thoughts up north turn towards winter, ours at the bottom of the planet turn to thoughts of hot days and cool food! I did not want to add cream -- this gazpacho variation contains only Greek yoghurt and a smidgin of heart-healthy oil. Serve icy cold, perhaps in stemmed glasses, with croutons (which I discovered I'm out of, when I took the photographs). If possible, make a day or at least 4 hours before serving.

i've never had gazpacho and don't know what it's *supposed* to taste like so i was going on the theory of "does it taste good? then it's not wrong" i have to admit i didn't think much of this at first. it was rather watery and tasted like nothing but salt, cucumbers, and garlic. i let it chill overnight and a strange thing happened: most of the liquid sunk to the bottom and i was left with a much thicker, creamier, and taster soup on top so i just ladled it off and called it a win. cold soup seems like such a strange thing in western culture. i can't think of anything besides chip dip that is salty and cold but this was rather nice once i got over my wierdness. think will experiment with it more in the summer, maybe add some sun-dried tomatoes or roasted red pepper bits for texture and colour. this was fun, thanks!
(I am not sure which broth or stock you would use. My granular stock powder is not very salty, so my soup needed more salt than stated above. The cubes unfortunately need boiling water to dissolve, while the granular powders dissolve readily in cold water. Therefore you will have to taste and adjust the seasoning before serving).
Rinse cucumber and cut off ends. Cut into rounds and then into cubes, and put into food processor.
Add the cold chicken broth/stock, and whizz at medium speed.
Add parsley, onion, yoghurt (Greek yoghurt is best)salt, Tabasco, oil and lemon juice.
Whizz at high speed until soup is smoothly processed. It won't be, and shouldn't be, velvet smooth.
Pour into, preferably, a glass bowl, cover, and chill. It's best to make this a day ahead.
Taste before serving, and adjust seasoning.