Summertime Watermelon Waldorf Salad
loof751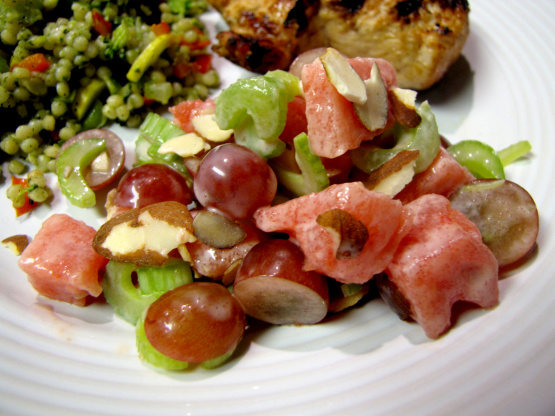 You will never believe how good this is....

Boy did I get some strange looks when I served this!! But when I asked everyone - so what do you think, 5 stars? The immediate answers were "Oh Yeah", "At Least", and "Definitely". Now for DH, he didn't try it because the kids ate the grapes and I had to substitute cucumber, but his parting comment after tasting one piece of watermelon was - I'd like to taste that when you make it again with the grapes. Needless to say, no leftovers, so I don't know if it improves with sitting or not. Maybe I'll find out next time since I'll be making a lot more. Thanks Sherrybeth!!
Ingredients

3

cups cubed watermelon, seeds removed and cut into 1/2 inch cubes

1

cup celery, sliced finely

1

cup seedless grapes, cut in half
1⁄4 teaspoon salt
1⁄3 cup coleslaw dressing
1⁄4 cup almonds, toasted (sliced or slivered)
Stir together watermelon, celery, and grapes in bowl.
Keep the fruit in the refrigerator until ready to serve.
Just before serving, stir salt into coleslaw dressing.
Pour mixture over fruit and stir until coated.
Sprinkle with almonds.