Um Safia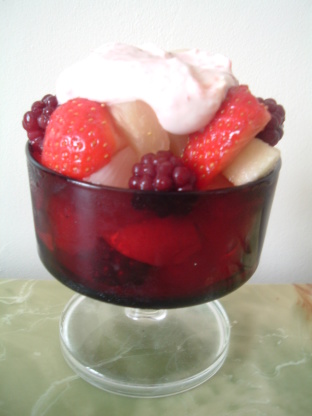 Creamy, delicious, light and fresh. What more could you ask for on a hot summer evening? Perfect for barbeques or picnics, or just because.

I made the recipe as stated with the exception of mashing one strawberry from the allotted amount into the topping (to make sure I couldn't tast the mayo!) and was a few blueberries short so added a few blackberries instead. This was very light and tasty. I was hesitant about the topping at first but it came out really nice in the end and the family didn't realise how it was made :lol: Will make this again in the future.
In large bowl combine mayonnaise, sour cream, sugar, lime juice and zest.
Stir to combine and refridgerate.
Combine 4 cups fresh fruit in large bowl.
Serve sauce over fresh fruit.