Summer Veggie Pasta Salad
loof751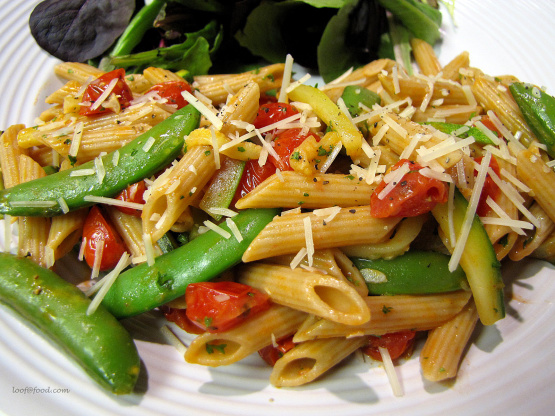 A great recipe to use all the fresh summer veggies that grow in abundance! Can add or change any veggies to suit your taste or supply.

AZ, this is marvelous. I didn't have shallots so just used onion and I added some red bell pepper that was already cut and left from another use. The pepper added color as I had wee yellow tomatoes and it worked wonderfully in the salad. Love that the veggies are lightly cooked but not long enough to lose their crispness (I did let the onion cook longer than that the rest as this one was really strong and it needed to mellow a bit). The salad is filling and I could very easily use it as a summer meal very happily. This is going into my Favorites of 2012 cookbook :D. Thanks so much for posting this one hon.
Bring a large pot of lightly salted water to boiling; add pasta and cook according to package directions. Drain and rinse pasta under cold water; drain again. Transfer pasta to a large bowl.
Heat 1 tablespoon of the oil in a large nonstick skillet over medium-high heat. Add the garlic; cook 30 seconds until fragrant. Add zucchini; cook and stir for 1 minute. Add snap peas; cook 30 seconds. Stir in tomatoes; cook 30 seconds or until beginning to soften. Transfer vegetable mixture to pasta bowl; toss well.
For shallot-mustard dressing, in a small bowl combine shallot, vinegar, mustard, salt, and pepper. Slowly whisk in remaining oil; stir in parsley. Pour dressing over pasta mixture; toss well.
Serve immediately or cover and refrigerate for 4 hours or up to 3 days to allow flavors to meld. Before serving, sprinkle each serving with Asiago cheese.