Summer Vegetable Succotash
Prep 40 mins
Cook 15 mins

1 lb small yellow-fleshed potato (such as Yukon Gold)
1 tablespoon vegetable oil (preferably corn oil)
1⁄4 cup unsalted butter
2 cups fresh corn kernels (from 3 ears; preferably yellow and white)
8 ounces baby pattypan squash, trimmed and quartered
8 ounces frozen shelled edamame or 8 ounces baby lima beans, cooked according to package directions and cooled
1⁄4 cup finely chopped red onion
1⁄4 cup finely chopped fresh chives
Directions
Cover potatoes with cold salted water by 1 inch in a large saucepan.
Bring to a boil, then reduce heat and simmer until potatoes are just tender, about 20 minutes.
Drain and cool, then cut into bite-size pieces.
Heat oil and 1 tablespoon butter in a well-seasoned 10-inch cast-iron skillet over high heat until foam subsides, then sauté potatoes with salt and pepper to taste, turning once or twice, until nicely crusted, 8 to 10 minutes.
Transfer to a serving bowl.
Sauté corn and squash in remaining 3 tablespoons butter in skillet over moderately high heat, stirring, until crisp-tender, about 5 minutes.
Stir in beans and sauté, stirring, until heated through.
Season with salt and pepper and add to potatoes with onion and chives, stirring to combine.
Most Helpful
I REALLY enjoyed this dish. I had never had succotash before and I decided to make it for my labor day bbq. My guests were afraid of it, but those few who tried it loved it. I ate it for 3 days afterwards. I didn't have any pattypan so I used kousa squash that I had gotten from my CSA that week. I used frozen edamame in place of the lima beans (which I didn't pre-cook) and some garlic chives from my herb garden. I would definately make this again. Would go nicely with grilled chicken, I think.
My BF and I both love succotash, so I picked this recipe to make. We used 3 ears of farmer's market corn and it seemed particularly sweet this year, and I thought they were selling pattypan squash, but it turned out to be something called scallop squash, so I used that instead. I just cut it into smaller pieces:D Instead of lima beans I used edamame beans (we both love them). The quarter cup of red onions was not so much that my BF objected to their being raw. I also liked the idea of adding browned potatoes. Instead of a cast-iron skillet I used a non-stick skillet and they still browned up nicely. If I used cast-iron they may have crusted better. Other than that, I added less butter. Great recipe, sort of like a gourmet, updated succotash! Thanks Bev!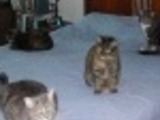 Yummy. Loved this and will make again. I used edamame (I'm not allowed to make lima beans for the family. I like them. They don't.) And I had trouble getting patty pan squash, so used zucchini and subbed scallions for part of the chives as I was short on chives. But the combination of fresh corn, fried potatoes, squash and beans with onions was just great. Will definitely make again. Thanks! Oh, updated to add that I also cut down on the butter. After frying the taters I only added 1 tbsp butter to the pan for cooking the corn and squash. It was still very good.