Summer Veg Pasta With Feta
RonaNZ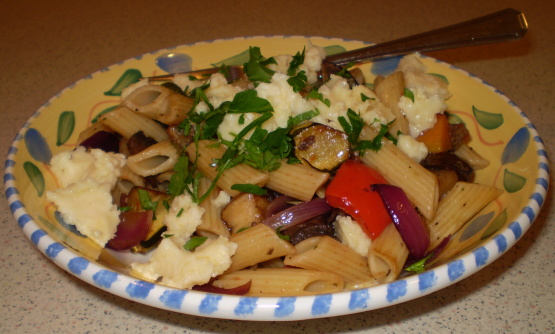 A quick, easy and flavoursome dish.

Top Review by RonaNZ
5 stars for the simple idea of putting the pasta into the veg to deglaze the pan! I would have put the veg into the pasta. Genius! I made this with smoked garlic and sheeps milk feta that I bought at the Food Show yesterday. This was a recipe worthy of my special ingredients. Thanks. :D
Prepare sauce: Preheat moderate-hot temperature (200 degrees C) oven. In a large roasting tin, place a single layer of cubed vegetables. You want fork-sized pieces (1cm-ish cubes) - it is important that the pieces are of similar size, so that they cook at the same rate.
Combine vinegar, olive oil, and pepper and toss through the vegetables until they are well coated. Scatter over garlic, thyme and rosemary and roast for 20 - 30min until the vegetables are cooked through and caramelizing in the pan.
Meanwhile, cook pasta as directed, in a large pan of salted water.
To serve: Toss drained pasta into the vegetable pan, adding a small amount of the cooking liquid to help deglaze the pan. Place in serving bowls and top with crumbled feta and parsley.