Summer Time Veggie Pita Melt
Bergy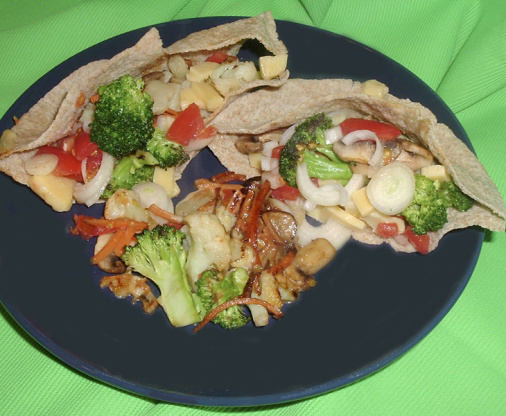 To hot to turn the oven on. Need something light, but good. Try this recipe!

Top Review by Bergy
What a treat! Now I do not have a microwave so I did this in a non stick skillet -no oil- no problem. When I had roasted the veggies in the pan I stuffed the Pita shells, added the tomato, onion & cheese wrapped them in foil and put them under the broiler (6" from heat) for 8 minutes. The Ranch Dressing gives a super flavor boost. I used Moorsdam cheese. I confess being a carnivore I added a bratwurst to my plate. Thanks michEgan for a super supper
Cook broccoli and cauliflower till desired tenderness. drain and put into bowl. Add mushrooms, if desired.
Cut and open a pita bread and stuff veggies inside. pour about 2 to 3 tablespoon ranch dressing inside. Top with the onion, chopped tomato and the cheddar cheese.
Close pita secure top with tooth pick.
Micro wave for about 30 to 40 seconds till.
everything is hot and cheese begins to melt.