WiGal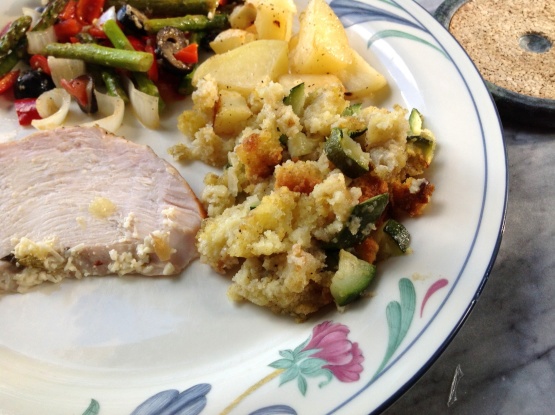 I serve with Grilled Basil Lemon Turkey Breast, roasted asparagus, coleslaw, and Sour Cream Peach Pie. Have made ahead and also have frozen prior to baking. I prefer baking in shallow layer so it is less soggy. I plan ahead by making 9 inch pan of cornbread day before and then using the leftovers for this. Melt butter in container big enough to hold other ingredients. I have subbed in zucchini also for this.

Really tasty dish. Ours was kind of dried out but not he recipes fault. We used a large summer squash, never again. Next time I am going to buy cute little squashes. MAde for Culinary Quest 2014 for Southern US.
3 1⁄2 cups cornbread, cut into 1/2 inch chunks
1⁄2 cup onion, chopped
1 1⁄2 lbs summer squash, 1/4 inch slices

5

tablespoons butter, melted

3

tablespoons sour cream
1⁄3 cup chicken stock
1⁄4 teaspoon black pepper
1⁄2 teaspoon thyme, dried
1⁄4 teaspoon salt
Preheat oven to 400.
In large bowl, put cornbread, onion, and summer squash.
Mix remaining ingredients together, pour over dressing, give it a gentle stir.
Put into greased 9 by 13 inch pan, bake uncovered for 45 to 50 minutes. Or freeze, defrost, and bake later--freezes well.