loof751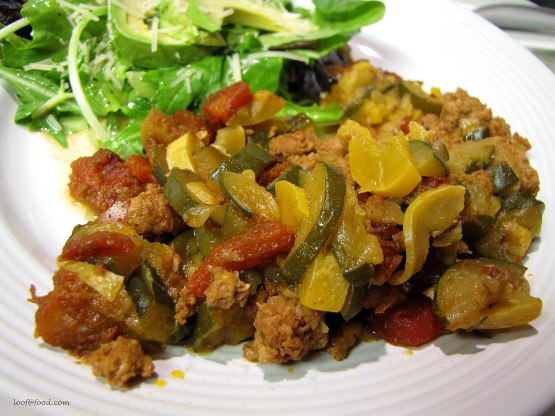 Great dish to use those fresh summer veggies from the garden. Full of flavor. I usually line the crockpot with those special liners made by Reynolds for quick and easy cleanup.
In skillet, cook the sausage crumbling it into small pieces. Drain grease and place in Crockpot.
Add onions and garlic on top of meat.
In same skillet add olive oil. Heat over medium heat. Add chopped squashes and saute for about 2 minutes. Place this layer next in the crock.
In same skillet add broth and bring to a boil. Make sure to get up any bits of meat and veggies from bottom of skillet. Boil for one minute. Pour over squashes.
Finally in the skillet add the can of tomatoes, cumin and red pepper. Bring to just a boil. Pour over every thing else in crockpot.
Cover and cook in crockpot on low for 8 hours.