Summer Spanish Sangria..get the Party Started!
Cynna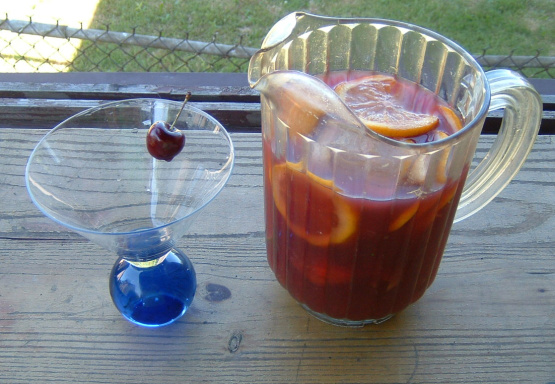 This is an authentic version of the popular wine drink. You can add any fruit that you want. This Sangria is not diluted with carbonated beverages. Cooks NOTE: try with red Burgundy wine and white rum, even spiced rum! Please note: this is an adopted recipe and I hope to make it soonest. If you make it before I do, I would appreciate feedback, Thanks ! ZWT REGION: Spain.

Top Review by Cynna
Wow! What a great recipe! This one really packs a punch, so make sure you're home for the night or your hostess takes your keys from you. I like that it's not diluted with soda. I used pineapple rum and replaced the lemon (since I was out) with a kiwi fruit. This drink is not only pretty to look at but tasty too. Thanks for sharing!
Have the fruit, rum, wine, and orange juice well chilled.
Slice the lemon, lime and orange into thin rounds and place in a large glass pitcher. Pour in the rum and sugar. Chill in refrigerator for 2 hours to develop the flavors.
When ready to serve, crush the fruit lightly with a wooden spoon and stir in the wine and orange juice. Adjust sweetness to taste.