Summer Salad With Goat Cheese (Dutch)
MomLuvs6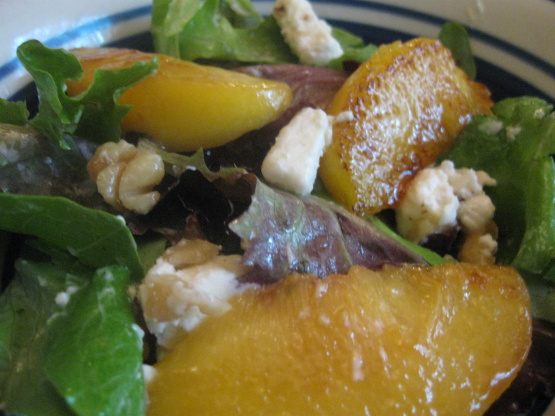 Posted for ZWT6, this sounds fabulous! Adapted from godutch.com The amounts for the salad greens and arugula seem low to me, I will probably add more when I make this. You can substitute the nectarines for strawberries, blueberries, and/or apples if desired.

Top Review by WiGal
Excellent repeater! Made dressing and nectarines as posted. Dressing is exceptionally good. Grilled the nectarines earlier as we had dinner guests and did not want to be tied to kitchen while enjoying wine on deck. After grilling I refrigerated the nectarines. I used the logged goat cheese and did not use as much as posted probably about 1/3 and also did not use as much mint- 3 leaves per salad. Mint is VERY nice with this combination of salad ingredients-but mint is strong so was careful. Thank you TheWallaces for sharing.
Cut the goat cheese into long slivers of about 1/3" wide.
Peel the nectarines and divide them in segments.
Heat a heavy skillet or stovetop grill pan. Thinly brush the nectarine segments with about 1 tbsp walnut oil. Grill them for a minute each side and take from the pan.
Squeeze the half lemon over a small bowl, add honey, remaining walnut oil, fresh ground black pepper and salt to taste and whisk into a smooth dressing.
Pour the dressing over the salad greens and goat cheese.
Put the salad into four bowls and garnish with the grilled nectarine segments.
Serve with a wholewheat baguette and a fruity wine such as Sangria if desired.