Peachy keen and simple to make. A no cook, light and easy refrigerator dessert. Prep time does not include refrigeration times.
1 package peaches or 1 package orange Jell-O
1 cup boiling water
3 medium ripe peaches, sliced
2 tablespoons honey
1⁄4 teaspoon almond extract
1 cup whipped topping or 1 cup whipped cream
of fresh mint, additional peach slices or raspberries, optional
Directions
Place Jello and water in a large mixing bowl and stir to dissolve.
Place peaches, honey and almond extract in a food processor or blender and process until smooth.
Add to jello and stir to combine.
Cover and refrigerate 1 1/2 hours or until the mixture is the consistency of syrup.
Beat the mixture on high speed 5 minutes or until doubled in bulk.
Gently fold in whipped topping.
Spoon into stemmed wine glasses and refrigerate at least one hour.
Garnish with your choice of toppings if desired.
Most Helpful
I thought this was fabulous. The flavors were very satisfying and the texture was just perfect. I put it in pretty glass dishes and refrigerated for several hours. I garnished with a raspberry on each surrounded by small thin peach slices (kind of like a flower hehe) and then a small piece of mint on each :-) looked so pretty! Thanks for this lovely dessert. I will make this again :-)

This was summer on a spoon! I love the light texture and fruity flavor. Perfect for those hot days where baking is out of the question. My peaches were not yet ripe, so I used four - 4 oz. containers of Dole peaches (drained) and whipping cream because we hate the chemical flavor of whipped topping. Even though it wasn't stated I used the small size (3 oz.) peach jello. I also think this would be great for a summertime dinner party - no baking and can be made ahead! Can't wait to try with fresh peaches or do a strawberry version! Thanks for posting!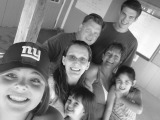 This had a great flavor, but it didn't thicken up right. I put it in the freezer, and that seemed to help. Wonder if its because I used sugar free jello?