Summer Lemon Sugar Cookies
Katzen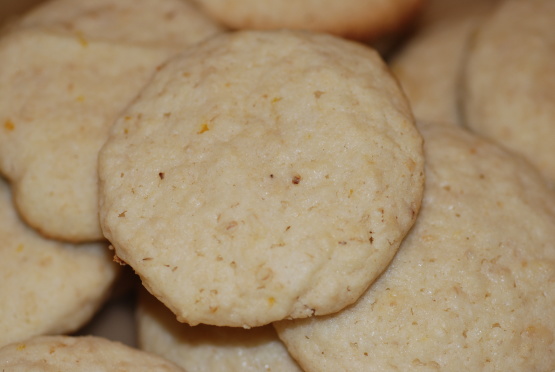 I call these "summer" cookies because I made them for a June graduation party. They are very refreshing and light. Top with a lemon glaze and you have perfection! I received this recipe in a newsletter from the Old Farmer's Almanac.

Very good cookies. Made half the recipe and it gave me 33 cookies. Baked them for 11 minutes and they were crunchy on the edges and semi-soft in the middle, just how we like it. The lemon taste was very subtle and next time I will add more lemon juice and zest. When cooled the dough was very stiff but it was no problem to roll the cookies. Did not flatten with a glass, just used my fingers, which by the way I did NOT dip in sugar.........The suggestion from Jamilah.s Kitchen to make some of the batter into a crust is a very good idea. Will try that and make a lemon pie. I am very pleased I found this recipe. Thanks for posting.
Sift together flour, baking powder and salt.
In a large bowl, cream butter and sugar; add eggs, beating well.
Beat in lemon rind and juice.
Gradually add flour mixture, then stir in oats.
Chill dough thoroughly (at least 2 hours).
Roll level tablespoonfuls of dough into balls and place onto greased cookie sheets, allowing room for cookies to spread.
Using a flat-bottomed glass or custard cup that has been greased and dipped into sugar, flatten each ball to a 1/4 inch thickness (dip the glass into sugar each time).
Bake at 375 degrees F until lightly browned around the edges, about 8 - 10 minutes.
Cool on cookie sheet for 1 minute, then carefully move to wire rack.