Summer Gazpacho With Garlic Cumin Sauce
Pneuma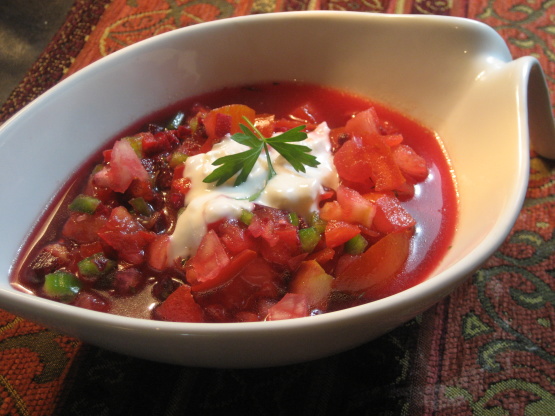 This is a refreshing chilled soup that combines the best of summer in one bowl and is topped off with a cooling sauce. Accompany it with grilled or toasted crusty bread. From Cooking Pleasures magazine.

Made as written and yummy! Used fresh herbs from the garden, too. For the sauce I chose whole cumin seeds and a few were scattered on top of the yogurt and then added a few strands of saffron. Beautiful presentation that way! Served with cornbread. Very good! Will make again! Reviewed for Veg Tag/July.
Gazpacho

4

cups chopped ripe tomatoes (about 4 medium)

1

cup cucumber, peeled, finely diced

1

large red bell pepper, finely diced (or green)
1⁄2 cup sweet onion, finely diced (or green onions)
1⁄4 cup celery, finely diced

2

radishes, finely chopped
1⁄2 serrano chili, minced (optional, for those that like heat)
1⁄4 cup chopped mixed fresh herbs (basil, tarragon and or or chives)

1

large garlic clove, minced

1

teaspoon salt

1

teaspoon fresh ground pepper
1⁄8 teaspoon crushed saffron thread (I substitute marigold leaves)

2

cups water
3⁄4 cup tomato juice (or V-8)

1

tablespoon balsamic vinegar (or sherry or red wine)

1

tablespoon extra virgin olive oil

Sauce

1⁄2 cup plain yogurt

1

medium garlic clove, finely minced

1

teaspoon fresh lime juice (or lemon)
1⁄4 teaspoon ground cumin
In a large bowl, stir together all gazpacho ingredients. Cover and refrigerate 30 to 60 minutes.
In a small bowl, stir together all sauce ingredients; refrigerate until ready to serve. Drizzle soup with sauce; pass remaining sauce.
Note:.
Remove the veins and seeds in the serrano chile for a milder flavor.