ImPat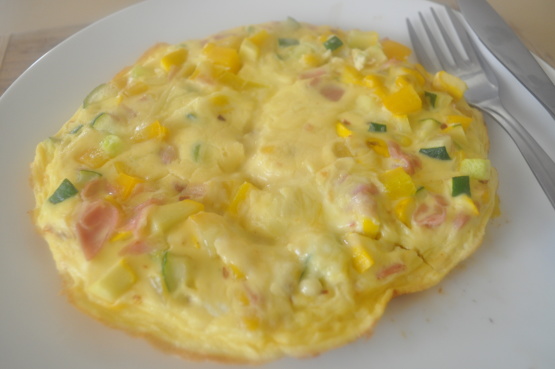 This is wonderful. I had a recipe from a diabtetic cookbook that I added to and adapted more for my taste. It turned out very well and my family NEVER knew it was good for them!

Top Review by ImPat
What a yummy frittata this made with lunch with a slice of buttered wholemeal/wholegrain toast. I used yellow capsicum/bell peppers as that is what I had on hand but think red would give better presentation and look more appealing. Thank you Sherrybeth, made for Adopt A Tag.
Combine all ingredients, except red pepper, cheese and egg substitute in a non-stick skillet which has been sprayed with non-stick cooking spray.
Lightly brown the ham, peppers, corn, onions, squash and zucchini.
In medium bowl, combine the egg substitute (whipping well), the cheese and red pepper.
Fold the browned mixture into the egg mixture.
Pour into a lightly greased tart pan and bake at 350 degrees for 30 minutes or until lightly brown and set in the middle.