Rita1652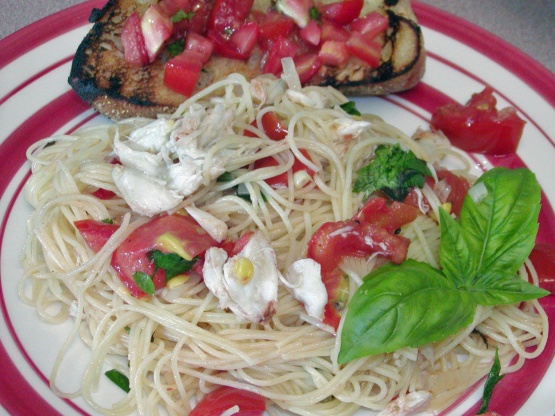 Angel hair with lump crab meat, Fresh corn, Plum tomatoes right out of the garden along with fresh herbs and Garlic. With fresh summer ingredients this dish is made in no time. Rachael Ray move over--this meal is cooked in no time!
This is a very easy, yummy recipe. I made it using 1/2 lb of angle hair pasta, but made the rest using all the ingredients called for used red plum and yellow tomatoes,PLUS I added 1 small yellow Zucchini, right out of the garden also added a little salt & pepper. Served it with Parmesan Cheese, very tasty, I will be making this again, DH devoured it. Thanks again Rita, for another YUMMY recipe.
Heat oil in a large pan.
Saute onions and garlic till translucent.
Add remaining ingredients except for butter just to heat through.
Stir in pasta.
Place into a large pasta bowl.
Top with butter while hot.
Garnish with pepper flakes to taste.