twissis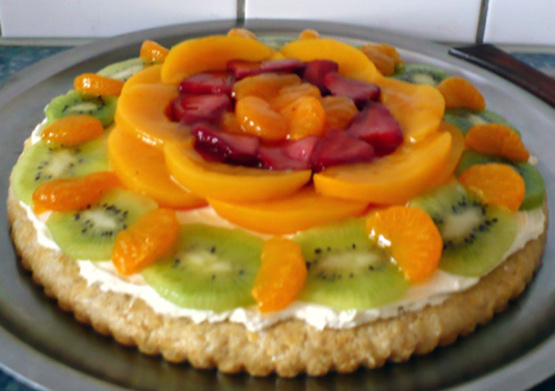 This pizza is to die for with all the fresh fruit and cream cheese icing. Enjoy!

Made for Spring PAC 2013 - This was delicious to eat & so fun to make. I used my Pampered Chef tart pan. It was the perfect size & produced the nice effect of a scalloped edge on the baked dough. Fresh fruit is not always available in April in Iceland, so I used frozen strawberries, canned Mandarin oranges & fresh kiwi. I subbed canned peaches for the nectarine & had to leve out the blueberries. I used the juice from the Mandarin oranges to make the glaze & will remember to reduce the sugar next time to allow for the sweetness already present in the canned juice. It is so pretty, but would have been stunning w/the blueberries. I'll be sure to find them next time. Thx for shraing this recipe w/us.
Mix crust ingredients and chill for 30 minutes. Then press dough onto a greased 12 or 14 inch pizza pan.
Bake at 350 for 12 to 15 minutes or until light golden brown. Cool completely. Spread cream cheese mix over the cooled crust.
Arrange fruit over cream cheese mixture. Combine glaze ingredients in a sauce pan; bring to a boil, stirring constantly. Boil 1 to 2 minutes until thickened.
Cool to room temperature and brush over fruit. Refrigerate and enjoy!