Summer Corn & Blueberry Salad
VernaeL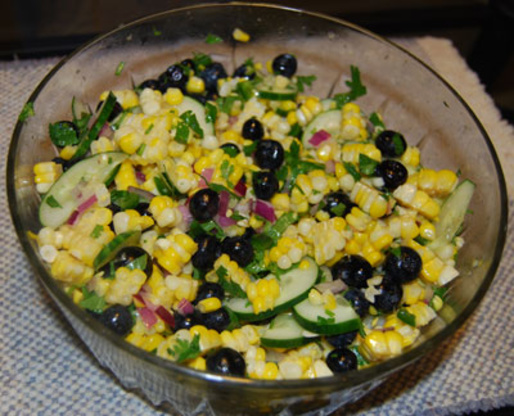 I found this in a magazine and thought it sounded so unusual and an unexpected combination so gave it a try for an upcoming get together -- everyone LOVED it at the party and I've made it again since and served to a big crowd who oohed and ahhed and asked for the recipe! Enjoy. 25 min prep; chill overnight optional

Absolutely delicious! No red onion -- used white instead. For color, might try green onions next time. Made half a batch, left in fridge overnight, and ate the entire batch at one time.
In a dutch oven bring salted water to boiling. Add corn. Cook, covered, 5 minutes, or until tender.
When cool enough to handle, cut corn from cobs. In a serving bowl combine corn, blueberries, cucumber, red onion, cilantro and jalapeno.
For dressing, in screw-top jar combine lime juice, oil, honey, cumin and 1/2 tsp salt. Cover, shake well to combine. Add to salad and toss.
Cover and refrigerate overnight.