Summer Chicken With Angel Hair Pasta
Brianna.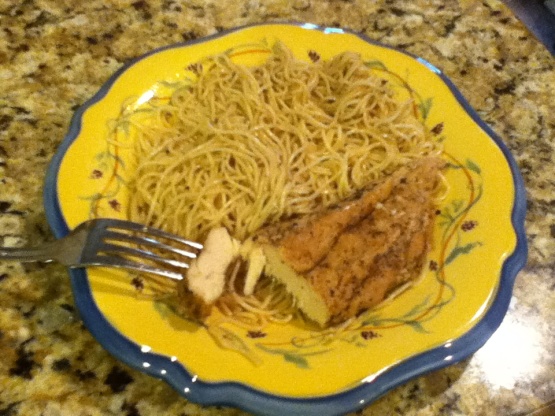 This is an alteration of a recipe I found in the Better Homes and Gardens Summer Recipes Cookbook. The original recipe was just for the chicken but I added some ingredients that I thought made it all the better. When I made this for my family, they all loved it and said it tasted like something they would order in a restaurant! Note: this is a lot easier to make than it looks by the recipe so dont be afraid to try it :) ***Its a pretty light and savory dish rather than hearty and strong so even though its amazing year round i make it mainly in the summer***
In a small bowl combine pepper, salt, and chili powder and sprinkle mixture on bothe sides of chicken halves.
Pour a few tablespoons of olive oil into a 12 inches frying pan (can use larger if desired) and cook chicken in oil until lightly browned flipping once (I do mine in two rounds to not overcrowd the pan).
While chicken is cooking, in a medium mixing bowl mix apple juice, chicken broth, italian dressing, garlic powder, and basil leaves.
When chicken is browned, pour apple juice mixture into pan with chicken. Cover and reduce heat to low. Cook for about 15 minutes or until tender.
While chicken is cooking, boil pasta according to package directions.
When chicken is fully cooked, remove from sauce and sprinkle with sea salt and ground pepper, letting sauce continue to simmer.
Pour sauce over angel hair, coating thoroughly. Serve with chicken and enjoy!