Katzen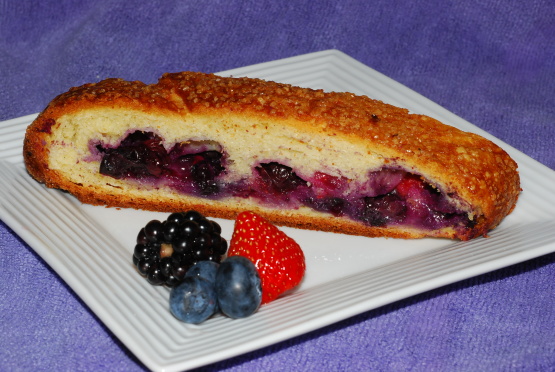 Courtesy of Homemakers magazine, this gorgeous and delicious struedel-like flaky yeast dough and sweet berry filling make a stunning, yet simple, dessert... or serve it for an upscale brunch. Do use raspberries, blueberries, and raspberries - the plump, juicy, and sweet fruit literally dance on your tongue. Prep time does not include dough rise time (add 2 hours.)

OUTSTANDING! We absolutely enjoyed the combo of FRESH berries in this recipe & your recipe for the dough is definitely something to keep around! Oh, yeah, & I increased the amount of lemon zest in the dough to a very rounded measure! As I said, I'm KEEPING this recipe on file! [Tagged, made & reviewed in Please Review My Recipe]
Filling

1

cup almonds, ground

3

tablespoons sugar

4

cups berries (blackberries, blueberries, raspberries)
1⁄2 cup sugar

3

tablespoons cornstarch

1

tablespoon lemon juice

1

egg, beaten

1

tablespoon milk or 1 tablespoon whipping cream

2

tablespoons sugar, coarse

Sweet Dough

3⁄4 cup milk, warm

2

teaspoons active dry yeast

3

egg yolks
2 3⁄4 cups all-purpose flour

2

tablespoons sugar

1

teaspoon lemon rind, grated

1

teaspoon salt
3⁄4 teaspoon cardamom, ground

1

cup butter, chilled, cubed
Sweet Dough:.
Sprinkle milk with yeast and let stand until foamy, about 10 minutes; whisk in egg yolks. In food processor, pulse together flour, sugar, lemon rind, salt, and cardamom; pulse in butter until in pea sized clumps. Add milk mixture and pulse just until dough holds together.
With floured hands on a floured surface, lightly knead a few turns (adding a little more flour only if dough is sticking to work surface) until in a soft, ball. Place in buttered (or Pam'd) bowl, turning to coat, and cover with plastic wrap; let rise at room temperature until doubled in volume, about 90 minutes.
Lightly push down dough. On a lightly floured surface, roll out dough into a 12 x 14" (30 x 35 cm) rectangle. Transfer to parchment paper-lined or buttered baking sheet.
Mix almonds and 2 tbsp sugar; spread lengthwise, about 4 inches (10 cm) wide, down centre of rectangle.
Stir together berries, remaining 1/2 cup sugar, cornstarch, and lemon juice; spoon evenly over almonds.
Fold one long edge of dough up over filling; covering berries; lightly brush with water. Fold second long edge of dough over first, pinching along edge to seal seam. Cover with plastic wrap and tea towel; let rise for 30 minutes. Whisk egg & milk (or cream) together; brush top with mixture. With scissors or razor blade, cut about ten 2" (5 cm) diagonal slashes along centre, through to filling. Sprinkle with coarse sugar.
Bake in centre of 350 degree oven until top is golden and filling is bubbling, 40 to 45 minutes. Let cool on pan on rack.