Summer Berries With Lemon Creme Fraiche
KateL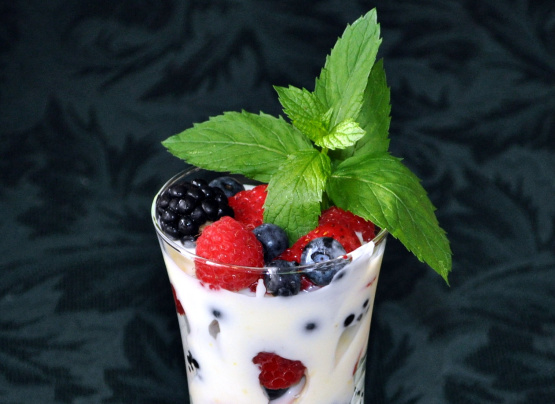 A light French dessert. Creme fraiche, a thick cream used in French cooking, is available in the dairy section of many supermarkets.

MarevelouS - light and sweet. I cut the sugar to 2 tablespoons and that was plenty for us. Loved the lemon taste - really set off the blueberries, blackberries and raspberries I used for this treat.
Thanks for posting, this is a wonderful little dessert that would be perfect for those hot summer nights - and so easy to prepare. Made for ZWT8 - FRANCE and the Herbaceous Curvaceous Honeys.
Place creme fraiche in a medium-size non-reactive bowl. Add sugar, lemon zest and lemon juice and whisk well to combine. Cover with plastic wrap and refrigerate until very cold, 1 hour or longer. (Lemon Creme Fraiche can be prepared 2 days ahead; keep covered and refrigerated.).
Rinse berries and gently pat dry. If using strawberries, rinse first then hull and halve (or quarter, if large) lengthwise. Place berries in a large bowl and gently toss to combine.
Divide berries among four wide-mouthed wine glasses, martini glasses or dessert bowls. Drizzle each serving with about 1/4 cup of Lemon Creme.