Sumac Fish & Couscous Salad (21 Day Wonder Diet: Day 3)
Sara 76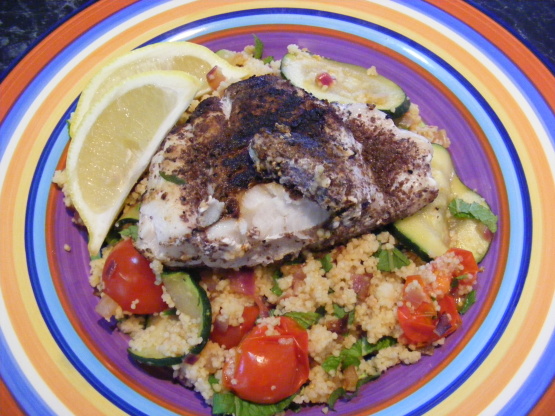 This is Day 3: Dinner, on the 21 day Wonder Diet. You can use any firm fish that is n season for this recipe. Sumac is a type of Middle-Eastern Spice, available from supermarkets. You can cook the fish without it if you like. The first time I made this recipe, I was unable to buy sumac, so I used a Portugese spice blend instead.

We couldn't find sumac,so we just left it plain with some pepper and lemon. I would add a little thyme to the veggies. ( Personal Taste Preference) Thank yo9u for reposting
Spray medium pan with cooking oil; cook onion and garlic over heat, stirring, 1 minute. Add zucchini and tomatoes; cook, stirring occasionally, about 1o minutes or until vegetables soften. Remove from heat, stir in mint.
Bring stock to a boil in a small saucepan; remove from heat, stir in couscous, stand 5 minutes. Stir into zucchini mixture.
Meanwhile, preheat grill. Sprinkle fish with sumac; grill until cooked, turning once.
Serve couscous topped with fish and lemon wedges.