Sultana Biscuits (Cookies)
SMG65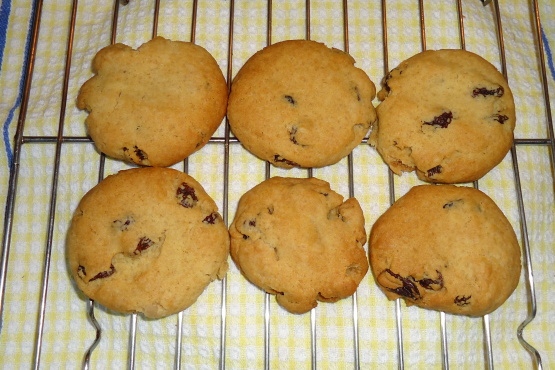 One for the lunch boxes. My girls grew up with these.

I was quite excited to see this recipe on food.com as it is a family favourite which we made ALL the time and became quite famous for! We call them "Golden Biscuits" and I think the originally came on the back of a power bill in the 1960's in New Zealand. We used to double, triple or quadruple the recipe but they still never lasted more than a few days in the biscuit tins! My brother had a friend who used to drive all the way across the city, (8 Km) and raid our biscuit tins if he knew we had just baked a batch.

Only tip for this recipe is that you need to practice getting the consistency right as they can turn out wildly different depending on how hot the day is or how much flour you put in. Make the dough slightly wet and let them spread a little makes them turn out nice and chewy.
Place first 5 ingredients in a saucepan and melt together slowly.
Add in the flour, salt, vanilla essence and sultanas.
Mix well, then place teaspoonfuls rolled into balls, on a cold ungreased tray.
Flatten gently with a fork and bake in a moderate oven 350'F/180'C for 10 - 15 minutes.
Cool on a wire rack.