DuChick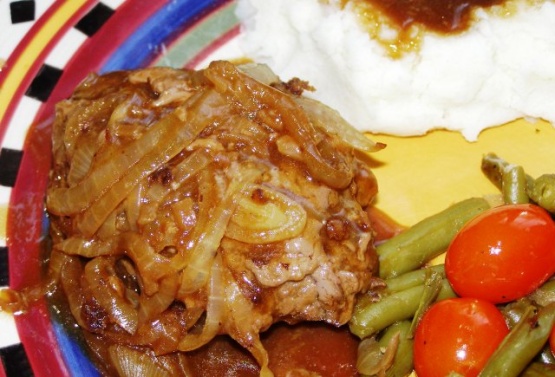 Delicious and easy I love being able to use stuff already in the house to make dinner. I threw this together this evening and it was a winner. Served it with corn on the cob and smashed new potatoes.

This is a great simple recipe and easy to make. I found it a little sweet for my taste, so I switched out the ketchup and used tomato paste instead. It boosted the savory level. Also, the patties are fragile so be sure to stir and flip them ca free fully or they will fall apart.
1

lb ground sirloin

1

egg
1⁄2 cup whole wheat bread crumbs
1⁄4 cup milk

1

(1 1/4 ounce) package Lipton Onion Soup Mix

1

onion, thinly sliced

2

cups water

2

teaspoons Worcestershire sauce

1

(1 1/4 ounce) packageinstant brown gravy mix
Mix first four ingredients together.
Add 2/3 package of the soup mix to the meat mixture and stir together by hand.
Make 4 or 5 small patties a little larger than a palm of your hand.
I pan fried mine for about 2 minutes per side in nonstick skillet and then placed in casserole dish.
I cooked the sliced onions till carmelized and set to the side.
In the same pan I poured 1 1/2 cups of the water in and brought to boil.
In measuring cup i added the package of gravy mix and the other 1/3 package of soup mix with the other 1/2 cup water. Once water boiling add gravy soup mixture cook til thickened.
Once gravy is thick pour over patties and baked in the oven for 45 minutes on 350.
Plate and put 1/4 of cooked onion on patty.
Serve with sides and enjoy.