Sukkerbrunede Kartofler (Swedish Caramelized Potatoes)
Nif_H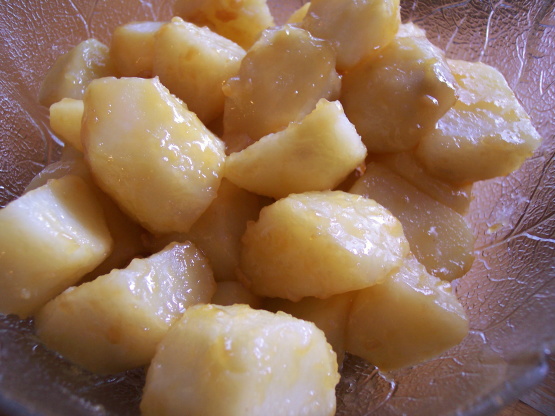 A traditional Christmas side dish that would work year-round. You can serve these with beef, pork or ham. Caramelised potatoes are not suitable for re-heating because they will become dull and not shiny. Enjoy!
The hardest part of making these potatoes is watching to make sure that your carmelized sugar doesn't get too dark (mine probably did) and waiting for it to get cool enough to eat without burning your tongue. I discovered I'm not fond of carmelized sugar...it is probably an acquired taste on potatoes.
Rinse the potatoes in cold water and drip dry.
Melt the sugar in a frying pan until golden. Add the butter and put the potatoes in the mixture when the butter has stopped fizzing.
Brown the potatoes over a brisk fire while stirring. Serve immediately.