This is one of my favourite snacks on days when i'm just too lazy. Very simple and nothing special, yet satisfying to the tongue...
Directions
Cut the bread half into triangles.
you may cut off the sides if you wish.
Spread each with a layer of butter or margarine.
Sprinkle sugar on one side (amount may vary according to your taste.) sandwich and serve.
Reviews
Most Helpful
Ha! We called this Fairy Bread at a Montessori school I worked at. We would use all sorts of different sugar sprinkles... Shhh. Don't tell their parents! Everyone knows Montessori teachers only feed their kids brussel sprouts and all that other brain food... My oldest (4) won't touch Fairy Bread with a ten foot pole. He doesn't know what he's missing out on!
This brought back wonderful childhood memories! I was the baby in the family and someone was always making this for me! White bread is a MUST for this recipe (tee hee)! Thanks for posting.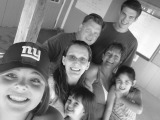 I made this often as a kid too. I loved to toast the bread, butter it and sprinkle it with cinnamon, sugar and sometimes honey too! The melting butter on the hot bread melds together with the sugar.