Sugarless Oatmeal Banana Cookies- Great for Babies!
Kathy O.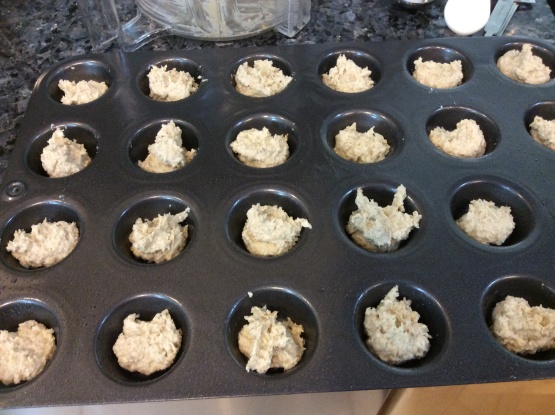 I made these for my 10 month old son! i broke it apart into finger food size pieces and he gobbled it up! I plan on trying this with veggies as well! *NOTE: the oats look really dry but are fine after they are pureed. These are best warmed up a little and are more like a bread. The dough looks more like pancake batter.
Pretty simple and turned out well. I made a few tweaks but I think it'd still turn out well if you followed the recipe to the letter. I used olive oil instead of melted butter, regular white flour, I didn't purée anything, so the oats are still a little chunky and I added a few chopped dates. Also baked in mini muffin trays rather than on a cookie sheet because I felt like it
1

cup quick oats
1⁄4 cup plus one tablespoon milk
1⁄4 teaspoon vanilla

1

mashed banana

3

tablespoons of melted organic butter
1⁄4 cup organic whole wheat flour
preheat oven to 350.
combine oats, milk, and vanilla. puree in a food mill or processor. *The oats will look really dry even with the liquid, but once they are pureed it is fine.
add the mashed banana to the oats, puree.
Add the melted butter and flour, puree. It look likes more pancake batter than cookie dough.
Spoon onto a greased cookie sheet. bake for 20 minutes until the bottoms are golden brown.
.