Sugarless Fruit Nut Muffins
Lusenda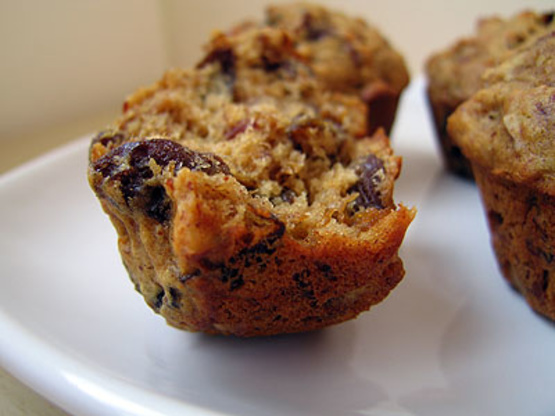 This is from another website. I did a few changes, I have made 12 muffins with 2 cups of chopped prunes. Also made them with dried apricots and dates. You would never know these didn't have sugar in them.

Oh wow, these were SOOOOOOO good. They were good like a bowl of oatmeal with dried fruit and nuts. I used whole wheat pastry flour and brummel and brown instead of butter and they turned out great. My new favorite muffins!
In a saucepan over medium high heat, combine water, dates, raisins and prunes.
Boil for 5 minutes, water will be absorbed and remove from heat, add chopped up butter and stir till butter is melted.
Transfer to large bowl and let cool.
Set oven to 350*F and grease and flour muffin cups or use paper liner.
Beat in eggs and vanilla. Stir together flour, baking soda, salt and baking powder.
Mix in nuts and blend into fruit mixture.
Spoon into muffin cups 2/3 to 3/4 full.
Bake in preheated oven for 15-20 minutes, or until toothpick inserted comes out clean.