IngridH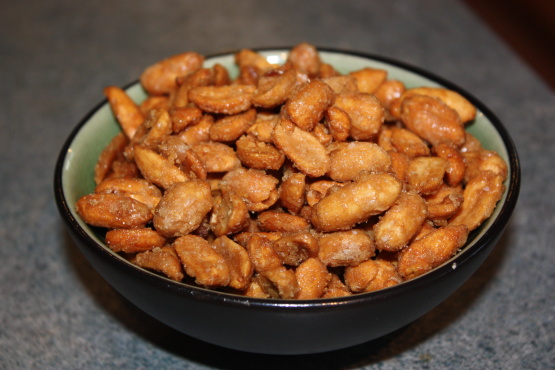 Sweet peanut treats courtesy of Polly Hall from the Taste of Home Magazine, April/May 2008.

These are really addictive! As soon as they were cool enough to touch, I started munching, and could have eaten the entire tray! I pulled mine after 30 minutes when they had a nice, golden brown color but were still a little sticky- they dried out nicely as they cooled. I'd love to try this with some cinnamon or nutmeg mixed into the sugar, like the nuts you can get at the fair. Great recipe, thanks for posting!
In a heavy sauce pan, combine the peanuts, sugar and water.
Bring to a boil: cook until syrup has evaporated, about 10 minutes.
Spread peanuts in a single layer in a 15x10x1 in baking pan; sprinkle with salt.
Bake at 300 degrees for 30-35 minutes or until dry and lightly browned.
Cool completely.
Store in airtight container.