alligirl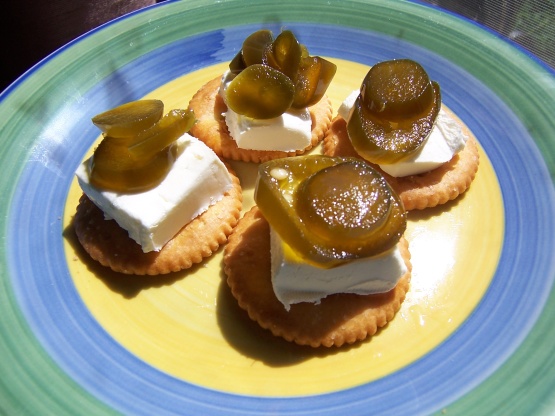 A friend at work gave these to me last Christmas, and I had to have the recipe. These are so good! I can eat them right out of the jar, but they are especially good on burgers with monterrey jack cheese, with turnip greens, or peas or beans (southern style). The amount of sugar is an estimate...basically you equal it to the amount of jalapeno slices you have. Easy and delicious!

Loved these!!! I reduced the recipe, to a smaller jar (9 oz.) and the sugar, accordingly. After faithfully and dutifully shaking the jar for 5 days, I was rewarded with these green gems, glistening brightly, just calling for the cream cheese and crackers! I obliged! :) The sweet from the peppers is wonderful against the cream cheese, with the hint of the heat, at the end. I think that I'll be making these to include in the gift baskets I make for my friends around the holidays! Thanks so much for sharing, breezermom!
Drain all the juice from the jar of peppers. Rinse with water a couple of times. Remove the sliced jalapenos from the jar, making sure they are well drained.
Place a cup of peppers back into the jar, followed by a cup of sugar. Continue to alternate the layers in equal measure until you have used up your peppers.
Shake well.
Shake the mixture twice a day (every 8 hours) for 5 days.
At this point, you can divide them up into smaller jars for gifts, or enjoy them yourself!