iris5555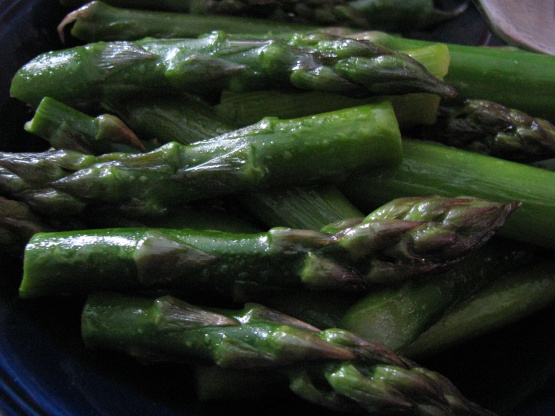 One of my favorites. Brings out the sweetness of the asparagus.

Very tasty! I used chicken stock and only had a small bunch of asparagus, but it worked fine. Love the sweet sauce and poured that over the baked chicken we had as well as the asparagus. Will make this again.
In a skillet over medium-high heat, melt butter and brown sugar until sugar is dissolved.
Add asparagus; saute for 2 minutes.
Stir in chicken broth; bring to a boil.
Reduce heat; cover and simmer for 8-10 minutes or until asparagus is crisp-tender.
Remove asparagus to a serving dish and keep warm.
Cook sauce, uncovered, until reduced by half.
Pour sauce over warmed asparagus and serve immediately.